Privacy Policy
Revised September 20, 2021
ElectraMeccanica ("ElectraMeccanica," "we," "us," or "our") operates a website at www.electrameccanica.com (the "Website"), offers services through a mobile application on the iOS and Android operating systems (the "App") (the Website and the App, collectively the "Online Services"), and offers products and services in person at our retail locations. It is our policy to respect your privacy regarding any information we may collect through the Online Services or otherwise. We are committed to safeguarding your information and to explaining how we collect, use, and disclose your Personal Information.
Definitions
Personal Information means information about an individual who can be identified from use of that information (or from that information when combined with other information in our possession or likely to come into our possession), including information that identifies, relates to, describes, is capable of being associated with, or could reasonably be linked, directly or indirectly, with a particular consumer or household. Types of personal information typically include names, physical addresses, mailing addresses, social security numbers, email addresses, phone numbers, bank account numbers and driver's license numbers. But Personal Information may also include other information that can reasonably link to a particular person, such as internet protocol (IP) addresses, unique device identification numbers, employment information, and internet activity. For purposes of this Notice, Personal Information does not include publicly available information from government records; de-identified or aggregated consumer information; or information specifically excluded from or by applicable data-privacy laws, such as the Health Insurance Portability and Accountability Act of 1996 (HIPAA), the Fair Credit Reporting Act (FRCA), the Gramm-Leach-Bliley Act (GLBA), and the Driver's Privacy Protection Act of 1994.
Usage Data is data collected automatically that is either generated by your use of an app or a website or from an app or website's infrastructure itself (for example, the duration of your visit to a web page).
Cookies and Pixels are small data files that are placed on your computer or mobile device when you visit a website (cookies) and snippets of code that track use behavior on a website (pixels). Cookies and Pixels are used, for example, to make websites work or to make them work more efficiently. Cookies and Pixels can also provide reporting information to track how a user interacts with a website.
Collection and Use of Personal Information
We limit our collection and use of Personal Information to information that is necessary for certain purposes. For example:
To fulfill or meet the reason for which the information is provided, including but not necessarily limited to:
Providing you with updates on our vehicles;
Sending you information regarding new features or products;
Requesting your feedback on our products;
Processing a vehicle-related transaction;
Providing you with services related to your vehicle.
To improve the Online Services and present their contents to you and to other users, including but not necessarily limited to:
Publishing your questions or feedback to help us clarify or respond to your request or to help us support other users;
Allowing our Website and App administrators view your IP Address and (if you are logged into the Online Services) email address if you post a comment on one of the Website blogs;
For testing, research, analysis, and product development, including but not necessarily limited to monitoring vehicle performance and accident reconstruction.
We will not collect additional categories of Personal Information or use the Personal Information we collected for materially different, unrelated, or incompatible purposes without providing you notice. Specifically, we currently collect the following categories of Personal Information from the sources and for the purposes indicated below: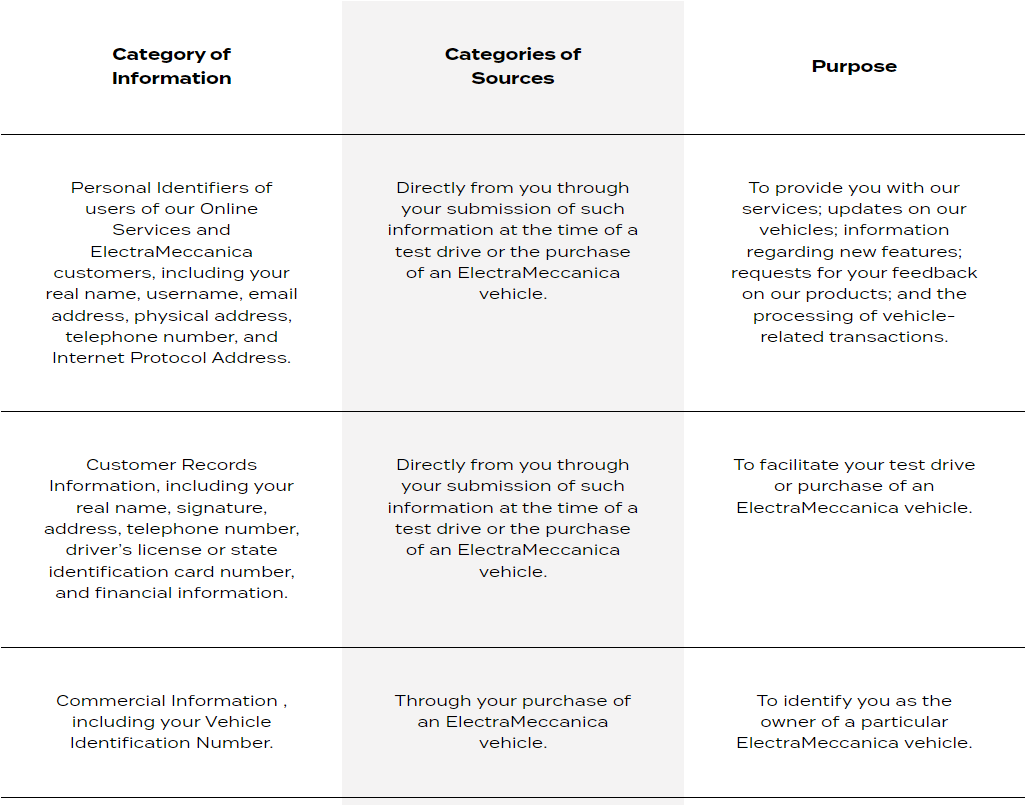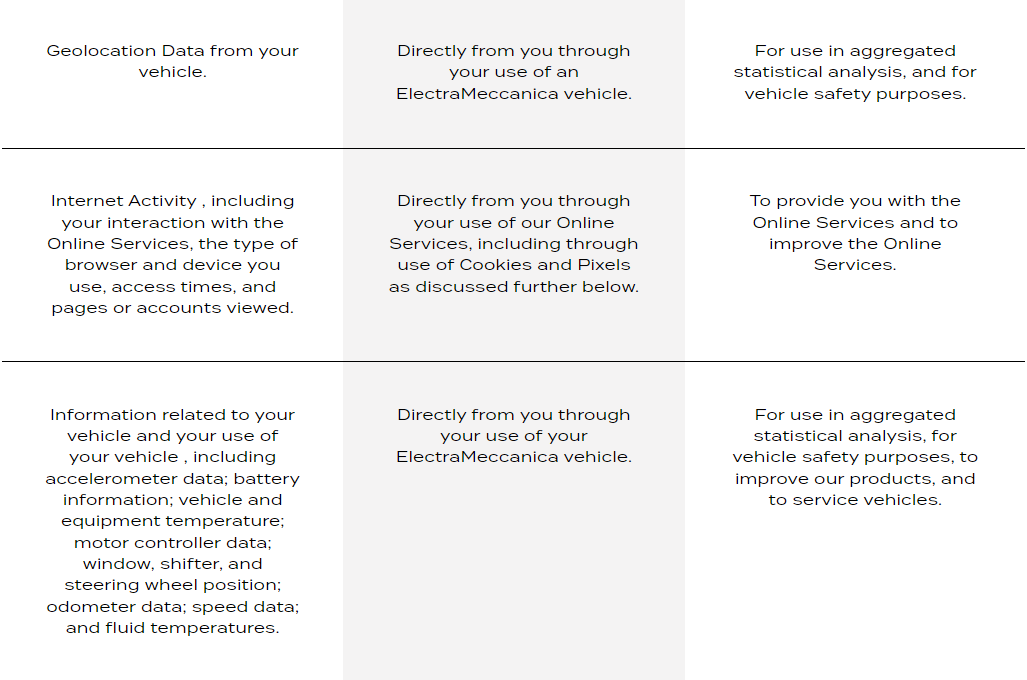 Use of Cookies and Pixels
We use cookies and pixels to identify you, track your activity on our Website, and to hold certain information. You can instruct your browser to refuse all cookies and pixels or to indicate when a cookie or pixel is being used. However, if you do not accept cookies and pixels for our Website, you may not be able to use some portions thereof. Please note that our cookie policies may vary by jurisdiction.
Opting Out of Cookies
If you do not want information collected through the use of cookies when using your ElectraMeccanica Account or our website, there is a simple procedure in most browsers (e.g., Microsoft, Safari, Chrome, Firefox) that allows you to automatically decline cookies or gives you the choice of declining or accepting the transfer to your computer of a particular cookie(s). However, if you do not accept these cookies, you may experience some inconvenience in your use of the Digital Services. For example, we may not be able to recognize your computer, and you may need to log in every time you visit the applicable Digital Services.
Do Not Track
We do not track our customers over time and across third party websites, and we do not provide targeted advertising. Thus, we do not respond to Do Not Track (DNT) signals. Third parties may have content embedded on our Website (including social media features) or may set cookies on a user's browser to obtain information about the user's visits to certain websites, including ours. However, we have no control over these third-party cookies, and these third parties cannot collect any other Personal Information from our Website unless you provide it to them directly.
Non-Personal Information
This Notice does not restrict our collection, use, or disclosure of any aggregated information or information that does not identify, or cannot be reasonably linked to, any individual. For example, we may collect statistics about the behavior of visitors to our Website or use of the App, and we may display this information publicly or provide it to others. However, such information is anonymized, and we do not disclose personally identifying information other than as described herein.
Disclosure and Sharing of Personal Information / Third-Party Providers
We may disclose Personal Information we collect from you: (1) to our subsidiaries and affiliates; (2) to contractors, service providers, and other third parties we use to support our business; (3) to fulfill the purpose for which you provide it; (4) to a buyer or other successor in the event of a sale or transfer of some or all of our business or assets; (5) for any other purpose disclosed by us when you provide the information; (6) to comply with any court order, law, or legal process, including responding to any government or regulatory request; (7) if we believe disclosure is necessary or appropriate to protect the rights, property, or safety of us, our clients, or others; or (8) for additional purposes with your consent. We do not sell or otherwise share personal information with third parties for direct marketing purposes. And when we do share your information with our service providers, they are contractually prohibited from retaining, using, or disclosing your Personal Information for any purpose other than that specified in the contract.
To provide you with the Online Services, we must communicate with our third-party providers. These third parties may also have privacy policies that differ from ours. For example, they may collect personal information about your online activities over time and across different websites and other online services, and they may use this information to provide you with interest-based (behavioral) advertising or other targeted content. We do not control these third-parties or their privacy practices, and this Notice does not apply to any third-party website or service you may access through our Online Services. If you have any questions about a third-party providers' privacy policies or advertising, you should contact the responsible provider directly.
The information we collect is currently shared with the following third-party providers for the purposes set forth below: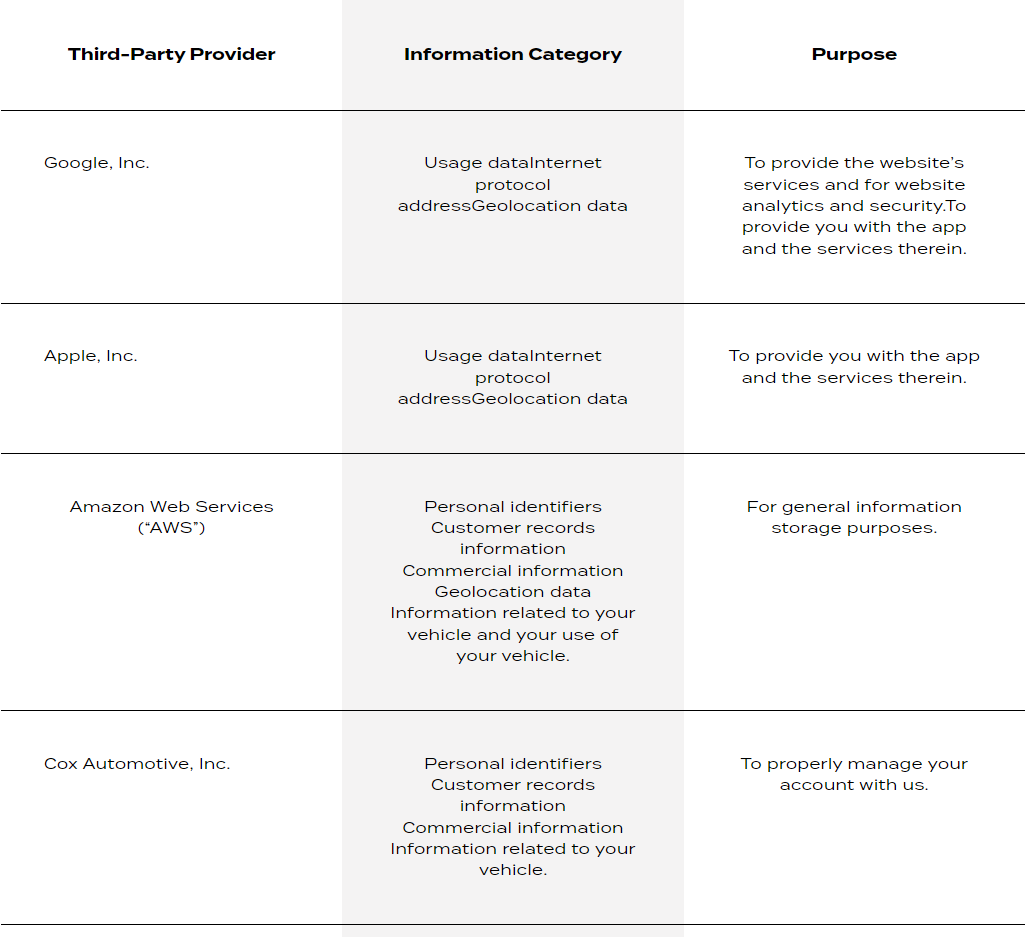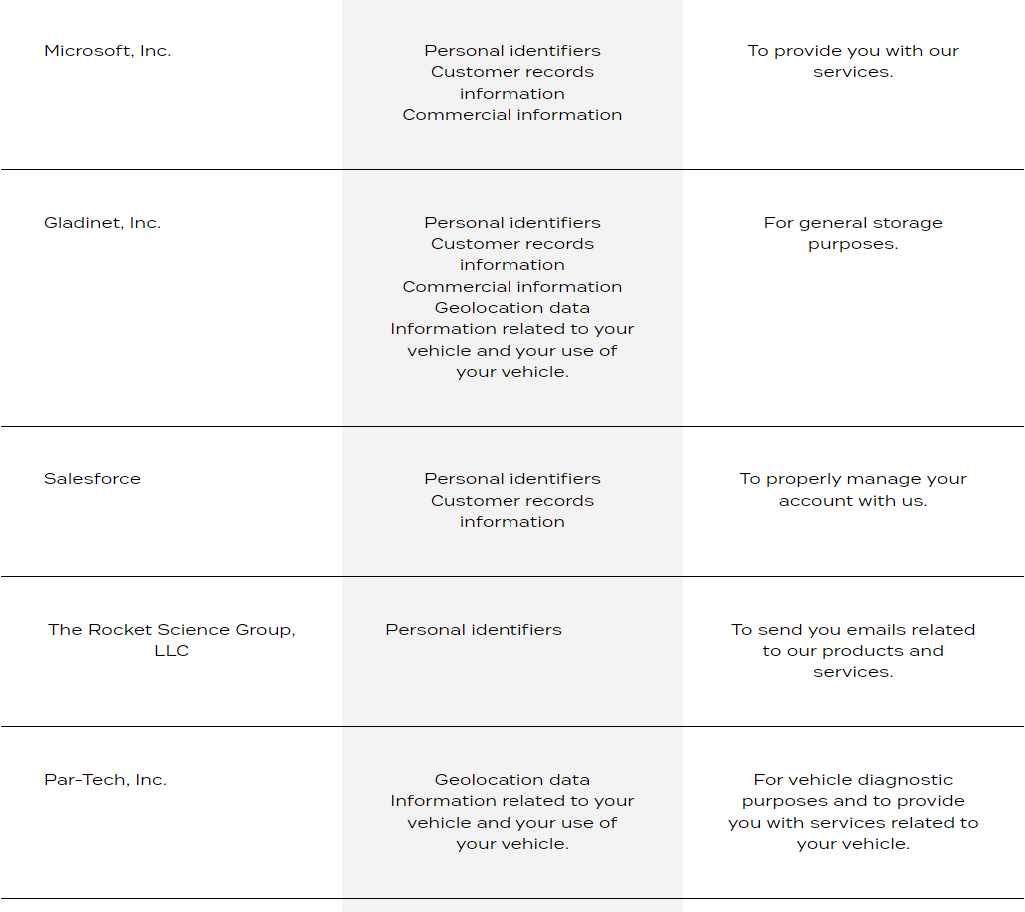 Google, Inc. (for Google Analytics and Google Tag Manager): Google Analytics is a web analytics service offered by Google that tracks and reports website traffic. Google Tag Manager provides website tracking using Pixels. Google uses the data collected to track and monitor the use of our Website. The Personal Information and Usage Data is shared with other Google services. Google may use the collected data to contextualize and personalize ads on its own advertising network. You can opt-out of having your activity on the Website made available to Google Analytics by installing the Google Analytics opt-out browser add-on. The add-on prevents the Google Analytics JavaScript (ga.js, analytics.js, and dc.js) from sharing information with Google Analytics about visits activity. For more information on Google's privacy policies, visit: https://policies.google.com/privacy.
Google, Inc. (for reCAPTCHA): Google reCAPTCHA provides website security by confirming that users are human. To support reCAPTCHA, Google may collect hardware, system, and user information from your computer or mobile device. Some of the browser and user information collected by Google includes:
All cookies placed by Google over the last 6 months;
How many mouse clicks you've made on that screen (or touches if on a touch device);
The CSS information for that page;
The date;
The language to which your browser is set;
Any plug-ins you have installed on the browser; and
All Javascript objects.
Google states that it only uses this data to protect against spam and website abuse. For more information on Google's privacy policies, visit: https://policies.google.com/privacy.
Google, Inc. (for Google Play): The App is provided on the Android operating system through Google Play. For more information on Google's privacy policies relative to Google Play, visit: https://policies.google.com/privacy.
Apple, Inc.: The App is provided on the iOS operating system through the Apple App Store. For more information on Apple's privacy policy, visit: https://www.apple.com/legal/privacy/en-ww/.
Amazon Web Services: AWS provides our hosting environment. For AWS's privacy policy, please visit: https://aws.amazon.com/privacy/
Cox Automotive, Inc.: Cox Automotive provides the DealerTrack and VinSolutions CRM systems. For Cox Automotive's privacy policies relative to the DealerTrack and Vin Solutions systems, visit: https://us.dealertrack.com/content/dealertrack/en/privacy-policy.html and https://www.vinsolutions.com/privacy-terms/privacy. Cox Automotive's general privacy policy is available here: https://www.coxautoinc.com/privacy-statement/.
Microsoft, Inc.: Microsoft provides our email environment. For Microsoft's privacy policies, visit: https://privacy.microsoft.com/en-us/privacystatement.
Gladinet, Inc.: Gladinet provides the Centerstack platform, which we use to manage customer files. For Gladinet's privacy policy, visit: http://gladinet.com/p/privacy.htm.
Salesforce: Salesforce provides our customer relationship management tools. All of Salesforce's privacy policies are available at: https://www.salesforce.com/products/platform/products/privacy-center/
The Rocket Science Group, LLC: The Rocket Scient Group operates Mailchimp, which we use to send you marketing-related email communications. For the privacy policies related to Mailchimp, please visit: https://mailchimp.com/legal/privacy/.
Tireco, Inc.: Tireco, Inc. provides the warranty for your NANKANG tires. Tireco's privacy policies are available here: https://www.nankangusa.com/privacy, and here: https://www.nankangusa.com/privacy#california.
Retention of Information
We will retain your Personal Information only for as long as is necessary for the purposes set forth herein. However, we may retain and use such Personal Information to the extent necessary to comply with our legal obligations (for example, if we are required to retain your data to comply with applicable laws), resolve disputes, and enforce our legal agreements and policies. Generally, we retain information related to your vehicle and your use of your vehicle for a period of five years to comply with the record-retention requirements set forth in 49 CFR 576.
We will retain your Usage Data for internal analysis purposes. As with vehicle-related information, Usage Data is generally retained for a period of five (5) years), except when this data is used to strengthen the security or to improve the functionality of our Online Services or if we are legally obligated to retain this data for longer time periods.
Notice to Secondary Purchasers
Please note that if you purchased an ElectraMeccanica vehicle on the secondary market, you should contact us immediately to notify us of your purchase. If you do not contact us, the former owner of your ElectraMeccanica vehicle may have access to your Personal Information, including Geolocation Data and information related to your vehicle and your use of your vehicle (as described further above) through the Online Services. By contacting us to notify us of your purchase of an ElectraMeccanica vehicle on the secondary market, we will take action prohibit such access by the former owner of the vehicle.
Data Processing
Your information, including Personal Information, may be transferred to " and maintained on " computers located outside of your state, province, country, or other governmental jurisdiction, where data protection laws may differ than those from your jurisdiction.
If you are located outside of the United States and choose to use the Online Services, please note that we transfer the data, including Personal Data, to the United States and process it there. Your consent to this Privacy Notice followed by your use of the Online Services represents your agreement to that transfer.
We will take all steps reasonably necessary to ensure that your data is treated securely and in accordance with this Privacy Notice and that no transfer of your Personal Data will take place to an organization or a country unless there are adequate controls in place including the security of your data and other personal information.
Data Security
We have implemented measures designed to secure your information from accidental loss and from unauthorized access and disclosure. The use of, and access to, your Personal Information by us is restricted to employees and contractors who need to know that information to provide services to you. We maintain physical, electronic, and procedural safeguards to limit access to your Personal Information. Unfortunately, transmission of information via the Internet is not completely secure. Although we do our best to protect all information submitted to our Online Services, we cannot guarantee the security of any such information. Any electronic transmission of information is at your own risk.
Changes to our Privacy Notice
We will post any changes we make to this Privacy Notice on our Website and will update the App accordingly. If we make material changes to how we treat Personal Information we collect from you, we will notify you on our Website homepage and in the App. The date this Privacy Novice was last revised is identified above.
Contact Information
If you have any questions or comments about this Notice, the ways in which we collect and use your personal information, your choices, and rights regarding such use, or wish to exercise your rights, please contact us at:
Phone: 1-888-457-SOLO
Website: www.electrameccanica.com
Email: info@electrameccanica.com
Physical Address:
ElectraMeccanica Vehicle Corp.
8127 E. Ray Road
Mesa, AZ 85212